KL received the 2003 National Women of Achievement, Charlotte Danstrom Award from Women in Management, Inc., recognizing her professional accomplishments in the field of marketing and her outstanding mentorship of women leaders.

A natural-born leader, KL is an active community member and received the 2004 Volunteer of the Year Award from Oak Park River Forest (OPRF) High School and the 2008 Outstanding Community Leader Award from Concordia University-Chicago. In 2005, the OPRF Chamber of Commerce presented KL with the ATHENA Award, recognizing her accomplishments in developing women leaders in the community and her professional achievements in business consulting.

As a well-known, community leader and member of World Chicago, KL is involved in the International Visitor Leadership Program in cooperation with U.S. Department of State′s Bureau of Educational and Cultural Affairs. She is responsible for hosting meetings with foreign leaders in government, politics, media and education who have traveled to the United States to exchange ideas with their professional counterparts, explore mutual interests and experience American social and cultural life.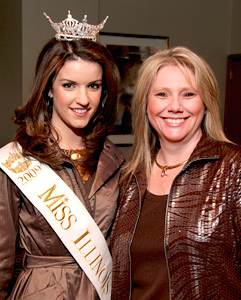 Erin O'Connor and KL Daly, 2010
(L) Dr. Inonge Mbikusita-Lewanika, Ambassador to the U.S. from the Republic of Zambia, 2006 International ATHENA Award Recipient (R) KL Robertson Daly, 2005 OPRF Chamber of Commerce Athena Award Recipient